Greetings!  We're to celebrate another grand award given to the Diabolicals for who-knows-why reasons!  😀
A massive thank you to RosemaryMarie (lovely name, btw) of the glorious Noble Doubt!  They write a lovely legacy novel, as well as the occasional short story!  Quite nice.
---
Rules…because we DEFINITELY follow those around here >.>
Thank the person who nominated you
Share the award on your blog  (we being Diabolical here, we had to make our own to fit in)
Share seven random facts about yourself
Tag 10 bloggers with less than 1000 followers and let them know they have been nominated
---
Fluffy Facts!
Let's start with the username.  Because that's random, right?!  Okay, so, way back in the day, when I was young and hip and edgy, I got my hair cut super short, but still stylishly short.  I think they called it a pixie cut.  I really have no idea.  Like this: Except she wears it a hellava lot better than I did.  ANYWHO!  So, I had short hair, and I gelled it each morning because I was THAT person.  And then I moved to a desert where the sun reacted with the gel I used and bleached my whole head of hair platinum blonde (I'm a dark brunette naturally).  I had to stop gelling my hair, but ungelled it would just float up around my head.  My sister started calling me "Dandelion", because…you know:
This then was converted into Fluffy as my normal hair color was restored (over many years).  I never gelled again, and so my shortish hair (I let it grow out a tad) is still "Fluffy".  The "Mao" part comes from the fact that whenever someone asked me my opinion, I used to be completely caught off-guard and unprepared and, apparently, incapable of English, so I would say "Erm, uh, MAO!"  Cuz I is da smart.  Does this count as 2 random facts?  I think this counts as 2 random facts…>.>
I started taking college courses when I was 12.  It's taken me over a decade to get two bachelor degrees.
I'm going on 24 and still have no idea how to drive a car.  PEDESTRIAN 4 LYFE!  😀
I have almost 2 dozen aunts and uncles (taking into account both sides of the family). I have met maybe 6, and almost all of them have children.  Cousins?  Uncountably infinite.
My favorite color tends to change rather frequently.  Thus, I pretty much like all colors.
I'm the tallest person in my immediate family.
I can name the 50 states of the USA (in alphabetical order and with capitols), but have no idea where they are in relation to each other.  And let's just forgo completely the WORLD'S geography!
---
Nominations for all the Lovely Peoples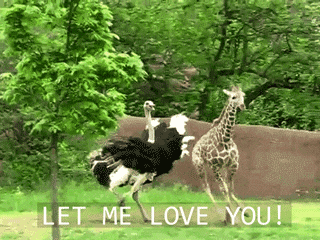 Do you feel the love yet?  FEEL IT!